BTicino SFERA LUNA+ (AVT350030)
■ LUNA+ High-End Video-parlofonie frontpanels for entry systems BTicino
■ Flush mounting: ref. Bticino AVT 350030, 350020, 350010 or surface mounting, anti vandal.
■ Unique design, sleek design, all RAL colors, combined with 353000 code keypad,
353200 badge reader, BTE101310 Sfera fingerprintreader Ekey,
352500 Graphic display, BT352200 info module led...
■ Full custom available for private and projects, customizable with name tags, engraved house number and/or names, text. "Made to mesure Bticino entry panels"
---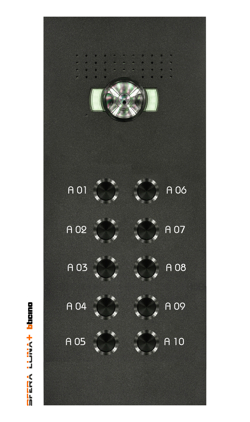 This Sfera Luna+10 video entry panel features engraved numbering/namin...
---